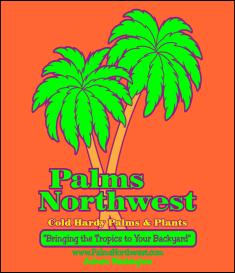 PALM TREE FARM LOCATION:
29525 112th Ave. SE
Auburn, WA 98002
Phone: 253-350-1800
EMAIL: Sales@palmsnorthwest.com
MAILING ADDRESS:
22653 83rd Ave. S
Kent, WA 98032
NURSERY HOURS
Spring & Summer Hours
We are open to the public Friday noon to 5, Saturday and Sunday 10 to 5. Get here before 5 and we will stick around, happily. We deliver Monday through Thursday however, if you give us a call we will see what works for both of us. We are closed during lightening storms, we are located under power lines and safety is our main goal. Well that, and a tropical look and lifestyle. We do offer delivery and planting 7 days a week.
Please contact me with any questions you may have
Ric Banchero
Copyright 2017 This site designed and maintained by Ric & Delight Banchero